UPDATE: PAFF is reporting that a lot of Qeevans, Hooads and Yaljuqs have been killed.

Our soldiers have fought bravely, they have been awarded accordingly.

The winners are: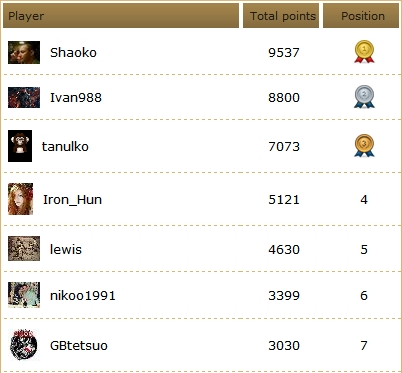 The following soldiers have also been awarded:
St0n3Bridg3
Zaitsev
SydneyBitcoins



The PAFF (Planetary Alien Fighting Force) is reporting that the tests of the new Alien Radar System (ARS) has been completed successfully, it has been put into operation.
With the help of ARS, PAFF was able to isolate some parts of our cities which will be used in the future to detain captured aliens.
PAFF will then observe them, experiment with them and ... yes, it will be used as training ground for our soldiers, but mostly to learn Advanced Defense Tactics.




In the early stage of this program (called District 9) three kind of aliens have been captured and named as follows:
- Qeevans
- Hooads
- Yaljuqs

The aliens have been transported to the Capital cities.
They don't show any signs of aggressiveness and can be killed with Pistols.
Qeevans can be killed by I grade soldiers, Hooads by H grade soldiers and Yaljuqs by G grade soldiers.

All soldiers are asked to come and fight inside District 9, it will be a brand new experience:
- There are two demilitarized zones (DMZ) next to the battle area, soldiers first need to choose an entrance



- After entering the battle zone, soldiers need to move to the area where the aliens are located



- After arrival, the aliens can be shot on sight



- Battle area can be left at any time, a rescue team will take care of you

PAFF will reward the players who kill the most Qeevans, Hooads and Yaljuqs:
1st place: 30 Game Shares and 50 Red Agra
2nd place: 20 Game Shares and 40 Red Agra
3rd place: 10 Game Shares and 30 Red Agra
4th place: 5 Game Shares and 40 Blue Agra
5th place: 4 Game Shares and 30 Blue Agra
6th place: 3 Game Shares and 20 Blue Agra
7th place: 2 Game Shares and 40 White Agra
8th place: 1 Game Share and 30 White Agra
9th place: 20 White Agra
10th place: 10 White Agra

Note: Event ends on 2014.07.03, at 19:00.

This message was edited 5 times. Last update was at 05/07/2014 14:48:58